Classes & workshops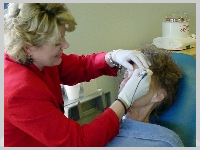 Eye liner / Eyebrow Treatment
Kim demonstrates the permanent eyeliner process. You will learn techniques that mimick thousands of tiny eyelashes by implanting pigments in the lash line.

You will also learn the pigmentation procedure for eyebrows, which gives the appearance of hair in the brow line. Opthalmologists recommend these procedures for those who are allergic to traditional makeup, as well as contact lens wearers.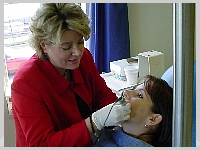 Lip Liner / Color Treatment
Kim is shown here applying the intradermal pigmentation procedure for lip color. You will learn techniques that actually appear to change the size and shape of the lips as well as the color.

This procedure helps prevent lipstick from bleeding into the surrounding skin. A soft pink, similar to the lip color of a newborn baby, is popular for those wanting a natural look. A more dramatic color can be achieved if desired. As with all intradermal cosmetic procedures, a topical anesthetic is used to minimize discomfort.
You will be trained and certified to administer the anesthetic.
permanent color
Permanent color can create a polished look or a subtle and natural look . . .

safe & proven
Medically proven, and specifically designed to be completely safe ...
Permanent cosmetics - a beautiful investment in yourself.