photo rejuvenation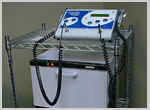 Photo Rejuvenation or Intense Pulse Light (IPL) Therapy utilizes infrared light to heal body tissue. It is used to increase blood circulation and oxygenation, thus hydrating the skin's surface. This procedure is utilized to treat: acne, acne scarring, age spots, rosacea, fine lines from sun damage, broken capillaries, enlarged pores, pigmentation problems and helps repair any imperfection of the complexion.

The procedure is administered in a series of 4 to 6 treatment sessions lasting 20 to 30 minutes, spread out in 10-14 day intervals. The cost per treatment is very economical. There is no recovery time and treatments provide a gradual, natural improvement from the first session. Very safe with excellent long-term results. Your body naturally responds to the healing benefits of light, and because the results commence from within the skin, the skin feels active, more alive, plump, and tight.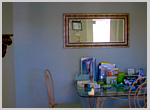 The beauty of non-laser IPL technology is that we can help achieve a refreshed, smoother-looking face, neck, chest, arms and hands, with a far less intensive procedure than conventional cosmetic surgery or laser resurfacing. Our state of the Art Light Therapy / Photo Rejuvenation Skin Care Treatment was developed as a result of the scientifically renowned concept that our body cells are actually photoreceptive. This unique cosmetic treatment utilizes the amazing benefits of light therapy to restore the skin's natural cellular activity. At Kim's studio, we amplify the beneficial qualities of light to give you light therapy, leaving out the harmful effects of over-exposure to the sun. Procedure time will depend upon extent of treatment.

. . . wrinkling, skin coarseness, pore size (and) irregular pigmentation showed visible improvement
Dermatology Times . . .

A process called Photo Rejuvenation can smooth away wrinkles, erase age spots and relieve the symptoms of Rosacea
ABC Network Television . . .